The dualsense It is the quintessential PS5 peripheral. As obvious as it was, we couldn't help but highlight it in our article on the best peripherals for this console. Even so, so many functionalities that it provides us have a cost; Unless, of course, we decide to play with the charging cable connected, which is not the most practical and comfortable thing to do. Therefore, we want to bring you a few simple steps on how to increase battery life from your dualsensethe quintessential PS5 controller.
In this guide we will guide you step by step on what you should do. You don't need anything, just your Dualsense and your PS5.
How to extend the battery of the PS5 controller
Here are the steps to follow:
The first thing we should do is turn on our PS5 console and access the main menu. Once this is done, we will go to the little wheel that is next to our avatar.
We will press the X button on this icon. Next, we must scroll down until we find the option "Accessories".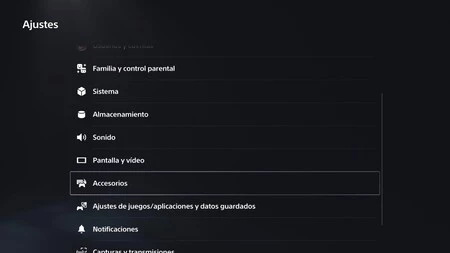 We will access this menu by pressing the X button again. Now, in the new window that appears, we will have to scroll down a bit to the option that says «Controls»
Here we will have various options to increase the battery life of our Dualsense. The first thing will be to lower the level of brightness of the control indicators, choosing the option "Attenuated".
Finally, we have two options that we can modify to make the battery last longer. These are: 'vibration intensity' and 'Intensity of the trigger effect'. The option that we choose in this is quite personal, since we can choose to completely deactivate these effects, or reduce the degree of intensity to our liking. Obviously, the more we reduce it, the longer the duration will be.