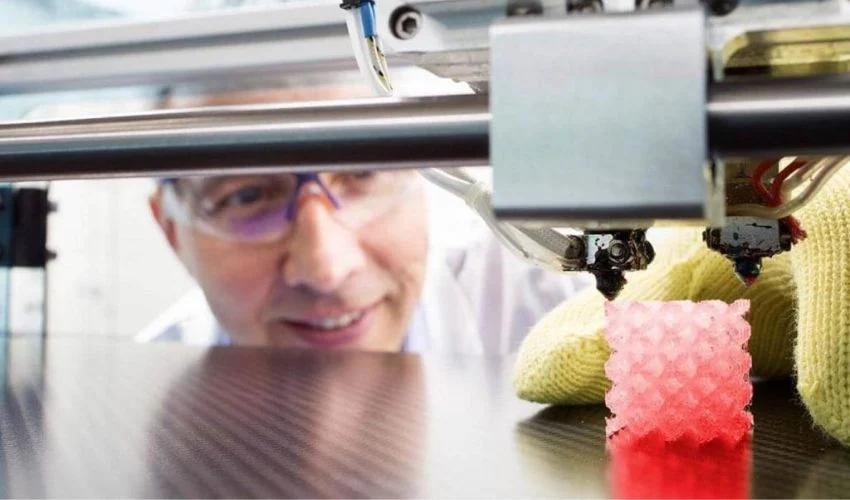 Two of the world's largest 3D printer manufacturers, Stratasys and 3D Systems, have announced new acquisitions in a sign of the continued growth of the 3D printing market. Stratasys was the first to announce that it has entered into a definitive agreement to acquire the additive manufacturing materials business of Covestro, a leading provider of premium polymers. The deal is expected to help Stratasys expand its materials offerings in stereolithography, DLP and powders. Meanwhile, shortly after 3D Systems announced that it will acquire dp polar GmbH to accelerate the additive manufacturing high-volume thanks to the polar dp platform, which enables high-speed, continuous 3D printing of components.
Even though summer tends to be a slower period, with many taking a well-deserved break to beat the heat, the 3D printing market certainly hasn't slowed down. This latest news especially shows the continued strength of Stratasys despite concerns about an acquisition just a few weeks ago. Furthermore, after a quieter year marked by sales rather than purchases, 3D Systems demonstrates that it remains in acquisition mode after re-entering the FDM 3D printing market through the acquisition of Titan Robotics and Kumovis.
Stratasys acquires AM's materials business from Covestro
It is not the first time that Stratasys and Covestro have been related. In fact, Covestro 3D printing materials have been part of the Stratasys third-party ecosystem (non-company materials that are compatible with its machines) for several years. In fact, Covestro has been a mainstay in additive manufacturing for quite some time thanks to its innovative material solutions, especially those focused on sustainability and the circular economy. Through the acquisition, users of Stratasys' Origin P3™, Neo® stereolithographic and H350™ printers, in particular, are expected to benefit as they will have access to expanded materials for use in stereolithography, DLP and powders.

According to the press release, Stratasys will acquire R&D facilities and activities, global sales and development teams in Europe, the United States, and China, a portfolio of approximately 60 additive manufacturing materials, and a broad intellectual property portfolio with hundreds of patents. and patents pending. Considering that materials R&D is one of the biggest drivers currently in additive manufacturing, this move should allow them to not only expand their offering to customers, but also gain access to Covestro's research for printing materials. 3D up to this point. The acquisition is expected to have an immediate positive effect, that is, to increase the earnings per share of the acquiring company. The purchase price for Covestro is approximately €43 million plus additional inventory, less certain liabilities. There is a possible gain of up to 37 million euros.
Commenting on the decision, Dr. Yoav Zeif, CEO of Stratasys, stated: "Innovative materials are the fuel of additive manufacturing and translate directly into the ability to create new use cases for 3D printing, particularly in production. of end-use parts such as dental aligners and automotive components. The acquisition of Covestro's prestigious additive manufacturing business positions us to continue to increase the adoption of our latest technologies. We will now have the ability to accelerate cutting-edge developments in 3D printing materials, and advance our strategy of providing the best and most comprehensive polymer 3D printing portfolio in the industry."
3D Systems aims to accelerate high-volume additive manufacturing through acquisition of dp polar
Meanwhile, 3D Systems has announced that it has acquired dp polar GmbH, a German designer and manufacturer of what 3D Systems calls the "industry's first additive manufacturing system designed for true high-speed mass production of custom components." . Its unique system enables continuous printing thanks to a segment rotating print platform, thanks to a patented polar coordinate control that keeps a print head stationary on a rotating platform. Stratasys hopes the system can be leveraged with its own portfolio of polymer materials and Oqton's software technology to bring high-speed, mass-produced AM to a number of critical industries.
Dr. Jeffrey Graves, President and CEO of 3D Systems, concluded: "This acquisition is the next step in executing our investment strategy to provide our customers with an industry-leading portfolio of additive manufacturing solutions to address to your critical application challenges. dp polar has designed a very unique system that provides true high volume production. The ability to print a wide range of materials, coupled with the printer's modular design that enables multiple processes on one high-speed platform, not only increases productivity by orders of magnitude, but also lowers total cost of ownership." The transaction is expected to close in the fourth quarter of 2022.
What do you think of these new acquisitions by Stratasys and 3DSystems? Leave your comments on our social networks: Facebook, Twitter, Youtube Y RSS. Follow all the information about 3D printing in our weekly newsletter.