We're in the middle of the week, Wednesday, and a day to talk about hunting bargains. We have not stood stilleven during these days, searching all interesting offers that we have been able to list for these dates; This Hunting Bargain is the result of that search. We invite you to review it one more week.
Deals on PC Desk Accessories
Logitech Surround Sound Speaker System for 303 euros (previous price of 402.29 euros). We start with Logitech and a 5.1 speaker system with Dolby&DTS Certification and 1000W of power. It has multiple audio inputs compatible with PC/PS4/Xbox/TV/Mobile/Tablet.
Blue Yeti X Microphone for 144.99 euros (previous price of 179.99 euros). We continue with Logitech and its Blue Yeti range of microphones with the X, a high quality peripheral with condenser, LED lighting and Blue VO!CE Software to elevate your broadcasts and recordings with clear vocal sound.
2TB external hard drive for 75.65 euros (previous price of 95.51 euros). "The more storage, the better," said a wise man. What wise? I couldn't tell you, but this 2TB external hard drive from ADATA has a score of 4.7 out of 5 on Amazon, so little excuse is needed.
Deals on other player accessories
Monitor BenQ MOBIUZ for 699.99 euros (previous price of 999 euros). BenQ doesn't often show up much for Bargain Hunting, but it was impossible not to recommend this 34-inch monitor with an IPS panel and 2K resolution. How could it be otherwise, it has a 144Hz refresh rate, 1ms response time and support for FreeSync Premium Pro.
Sennheiser HD599 Headphones for 74 euros (previous price of 199 euros). Sennheiser is widely known for those looking for spectacular audio quality, and the HD 599 for less than half the price, with an impedance of 509 ohms and weighing just 250 grams, it's hard not to recommend it.
Bergner A144 Desk Chair for 128.99 euros (previous price of 284.89 euros). If you are someone like us who spends many hours sitting in front of the PC, this Bergner chair will be your best friend with a supported weight of more than 120 Kg and an adjustable height of between 125-135cm.
PC Component Deals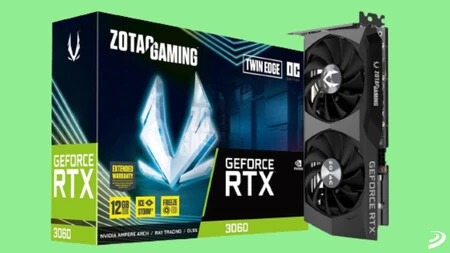 AMD Ryzen 7 5800X 3.8GHz Processor for 328.89 euros (previous price of 543.29 euros). We entered the almost high range of the current generation of AMD before the launch of Zen4 with a Ryzen 7 5800X that will not leave anyone looking to play like never before indifferent.
Zotac Gaming RTX 3060 Twin Edge Graphics Card for 419.89 euros (previous price of 441 euros). If you haven't decided yet if you're convinced by the RTX 40, the entry-level range for gaming from the Ampere generation remains an unbeatable ally in video games. A GPU clearly focused on gaming at 1080p with high quality thanks to its 12 GB of VRAM memory.
AMD Ryzen 5 5600X 3.7GHz Processor for 230.99 euros (previous price of 361.79 euros). One of the most purchased AMD processors for its value for money. A must of Ryzen 5 with 6 cores and the possibility of increasing the clock speed up to 4.6GHz.
Gaming Laptop Deals
MSI Modern 15 A5M-010XES Laptop for 599 euros (previous price of 699 euros). In our particular habit of recommending up to 3 ranges of laptops, we start with one that is not so focused on high-performance gaming. It has an AMD Ryzen 5 5500U and integrated graphics card, as well as 8 GB of RAM and 512 GB SSD
Acer Nitro 5 AN515-57-73QK Laptop for 799 euros (previous price of 1,149 euros). We upped the ante with this Acer and its Core i7-11800H, accompanied by 16 GB of RAM and an RTX 3050, a great ally of NVIDIA DLSS for capable performance.
Lenovo IdeaPad 3 15ACH6 Laptop for 976 euros (previous price of 1,149 euros). The top that we can recommend today comes from Lenovo with a Ryzen 7 5800H, 16GB RAM, 512GB SSD and a better RTX 3050 Ti than the previous model.
Offers in video games for PC
DOOM Eternal Deluxe Edition for 19.63 euros (previous price of 69.99 euros). Eternal has become for many one of the best shooter of the recent market, but we are also talking about a delivery at the height of the best DOOM.
The Elder Scrolls V: Skyrim VR for 16.83 euros (previous price of 59.99 euros). Among the thousand and one versions of Skyrim, the fifth part of The Elder Scrolls, the VR version caught many of us by surprise. an amazing port fully optimized and with the possibility of playing with the same mods as its base game.
Horizon Zero Dawn Complete Edition for 19.99 euros (previous price of 49.99 euros). One of the first PlayStation games that made the leap to PC in style. In addition, Horizon has become a beloved IP within Sony, which is why many are waiting for its second part to jump to this platform.
Controller Ultimate Edition for 9.99 euros (previous price of 39.99 euros). The jump that Remedy made from Alan Wake to Quantum Break and then Control is spectacular, even more so when this latest installment connects with that of Alan Wake.