Those who do not want to be burdened through the streets with a scooter or electric bicycle and look for a more casual style without resorting to the trainers with training wheels that sparked the criticism of parents and podiatrists for years in Spain, here is an alternative. tie a wheel system with electric motor and battery to your shoes to convert them in seconds into roller skates with which to reach places faster and effortlessly.
[El patinete eléctrico más vendido de Decathlon: es de Xiaomi y tiene una autonomía de 30 km]
Airtrick E-Skates are manufactured in Hong Kong and are in full launch campaign through the indiegogo platform. They are a solution to go from traditional shoes to wheels and their launch price starts at 380 euros.
Neither electric scooters nor roller skates are practical to carry from one place to another. These wheeled harnesses allow combine walking shoes with the fun of roller skating and the convenience of an electric motor that helps you go faster. In addition, they can be chosen with different colors and graffiti.
Airtrick E-Skates
The two skates that are sold in pairs, as is evident, are comput of a one-piece aluminum alloy frame. The frame is covered by a customizable rubber platform to support the feet, or rather the shoes, and a series of straps to hold the ankles and toes, being able to quickly release them when they no longer want to be used.
Under the body are the four rubber wheels that resist abrasion from rolling on the asphalt or sidewalk. In order not to have to make an effort on the way, a 3 Ah lithium battery powers a 150 watt motor.
Skaters can control the speed of their feet with a remote control included in the kit. Offers four speed settings, being the maximum of 27 km/h. According to the brandthe battery takes 3 hours to charge and can easily travel a distance of 15 km.
To brake, it is activated from the remote control, at the same time that the rubber brakes that the E-Skates include behind can be used. Another security measure is your waterproof, IPX3 certified, which means they can withstand splashes of water.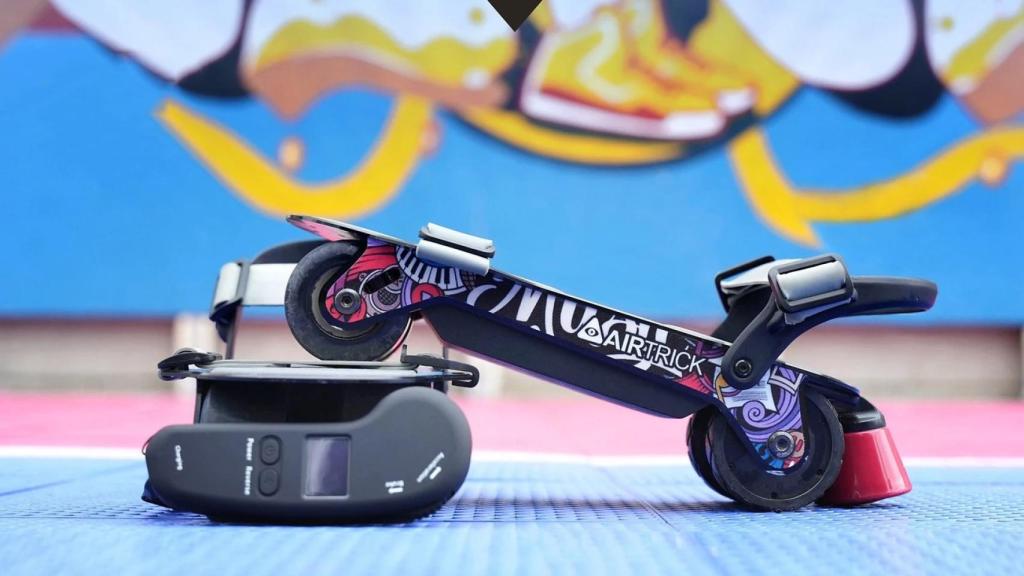 The passenger, along with their luggage, if they carry a backpack, can reach a maximum weight of 100 kg, the limit that the aluminum frame of these scooters can withstand. On your own, both accessories together weigh up to 3 kilogramswhich would make it easier to carry them from one place to another.
Airtrick has in its catalog different models that are very similar to each other. An Ultra version offers a more powerful charger as a difference, while another model is standard A1 has two engines that allow it to reach 23 km/h and a range of 10 km.
On the Indiegogo website, its creators offer this variety of models for a price that starts from €386, amounting to 551 euros for the Ultra. The first deliveries will begin in October 2022.
You may also like…
Follow the topics that interest you
.