Two transcendental anniversaries are celebrated this 2022 in relation to the Cuban visual artist Wifredo Lam, since next December 8 there will be a jubilee for the 120 years of his birth in Sagua la Grande, Las Villas, while last September 11 They commemorated four decades of his physical disappearance, which occurred in 1982 in Paris, France.
Although Wilfredo Oscar de la Concepción Lam y Castilla —whose signature was simply Wifredo Lam— does not need the conventions of the almanac to remind us that he occupies a place of honor among the greats, his compatriots enjoy honoring him for such reasons and once again delight in many of his works exhibited with honor by the National Museum of Fine Arts, among other institutions.
His universal fame was gained above all as a painter, but he was also interested in ceramics, graphics, drawing and sculpture, genres in which his dedication was of high quality and in which he was able to show his restless spirit of innovation.
Avant-garde movements of his time, such as cubism and surrealism, had him among their militants or practitioners, depending on how you want to say it.
His greatest merit, according to his compatriots and numerous experts, is having expressed, with his multifaceted and polysemic work, essential elements of the identity and cosmogony of his country. With this he made his way to universality and immortality.

Wifredo Lam in Cuba in 1956.
Of course, all this mastery was linked to his immense talent and vast culture, but also marked by the knowledge acquired in early studies at the prestigious San Alejandro Cuban Academy of Fine Arts in Havana.
A year before his death, he was decorated with the Félix Varela Order, the nation's highest cultural award. Among his works stand out the toy king (1942); Hurricane (1944-1946); The jungle (1943), the original of which is exhibited in an important museum in New York; The chair (1943), a jewel in the collection of Fine Arts, Havana; Y Sit woman (1927).
They are also inescapable Malembo, I sing to Camosis, eternal present, escalopendre, cardinal harps, moon flower, clay light Y land rumble. There are outstanding exhibitions like First Papers of Surrealism in New York, as well as in Paris, Prague, Milan, and at the Institute of Modern Art in Chicago, just to name a few.
The presuppositions of his bold images used African and Chinese cultural elements for the first time. For this there is a plausible sociological explanation, in addition to the one referring to his academic training.
Of humble origins, he was the son of a Cantonese Chinese emigrant and a Creole woman in whom African and Spanish genes were mixed. This influenced the formation of his personality and then his professional performance. The characteristics of his family were a reflection of the boils of the forging of national identity in a mestizo country on all four sides.
Today, when many of his works are shown in select museums and galleries in Europe, America, and other continents, Martí's assertion that "Homeland is humanity" in the true sense in which the Apostle enunciated it is worth more than ever.
His biographers say that the artistic inclination was precocious in Lam, showing from childhood a preference for drawing and painting, something of which the Museum of History of his native Sagua la Grande keeps samples, like a treasure.
After winning three courses in San Alejandro (1920-1923), he traveled to Spain to study painting at the San Fernando Academy in Madrid, paid for by the City Council of Sagua la Grande.
He toured almost the entire Iberian Peninsula, and from academic portraits and landscapes he marched seduced towards the paths of themes and techniques of modern art.
Spain was revealing and a coup de grace and conscience in his life. He joined the international artistic brigades there, defended the Spanish Republic, and acquired a leftist political stance, which was later influenced, when he settled in Paris in 1938, by his friendship with Pablo Picasso, with whom he immediately had an artistic and ideological
His links with surrealism and, in general, with Parisian bohemia, opened the doors of a new world for him. In the Museum of Man of the City of Light he found invaluable samples of African art and sculpture, of great influence on his work from now on.
He began to create, in an accelerated evolution, with a sober style and economy of compositional resources. That formal composition announced him as a follower of Cubism.
He painted fruitfully in those years and many of the works from that time are today part of private collections in various cardinal points of the world.
During World War II, he was imprisoned for 40 days in Martinique along with other avant-garde intellectuals and artists, during a trip that had left Marseille.
He returned to Cuba in 1941. Settled in Havana, he also experienced decisive stages in his career in his homeland.
In the capital he seemed to put aside the European-Western pictorial influence, at least in terms of form, and created hybrid representations that no one had ever seen in that turn.
There was in its majesty the universe of the traditions and experiences of childhood, even with its oneiric and spiritual load. Those elements nurtured the new creativity. They went hand in hand with family memories, the resounding island landscape, the sum of themes and icons of magical-religious systems of African origin, extended in the Caribbean and in Cuba. From his own life.
The jungledefined as «the first plastic manifesto of the Third World», and The chairare considered essential reflections not only of his art, but also of a thought that, without really abandoning European surrealism and cubism, captures and expresses all the spirituality and humanity of the syncretic cults of Cuba and the entire Caribbean.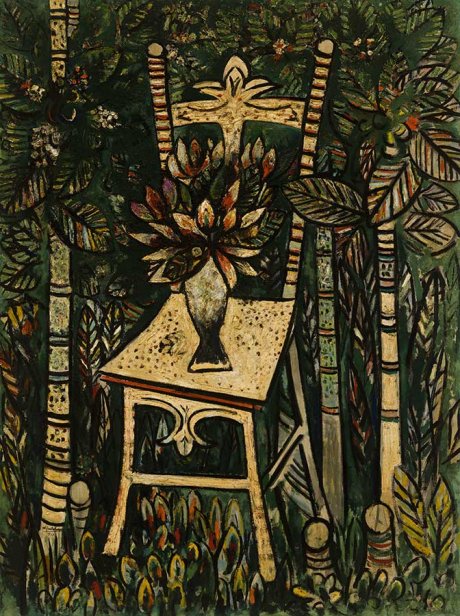 The chair, 1943. Oil on canvas; 131 x 97.5cm
In 1951 he won the first prize at the National Hall, Havana. But he was a free spirit as light-footed as such people are, and in 1952 he returned to Europe. He not only works and creates incessantly, always dabbling in different techniques such as collage and lithography, painting of altars…, but rather it broadens the connections that multiplied the resonance of a work of the highest value throughout the world.
He died in Paris, we don't know if "Thursday and with a downpour", as a great poet once wished for himself, together with the beautiful family that this brilliant, universal Cuban had founded.